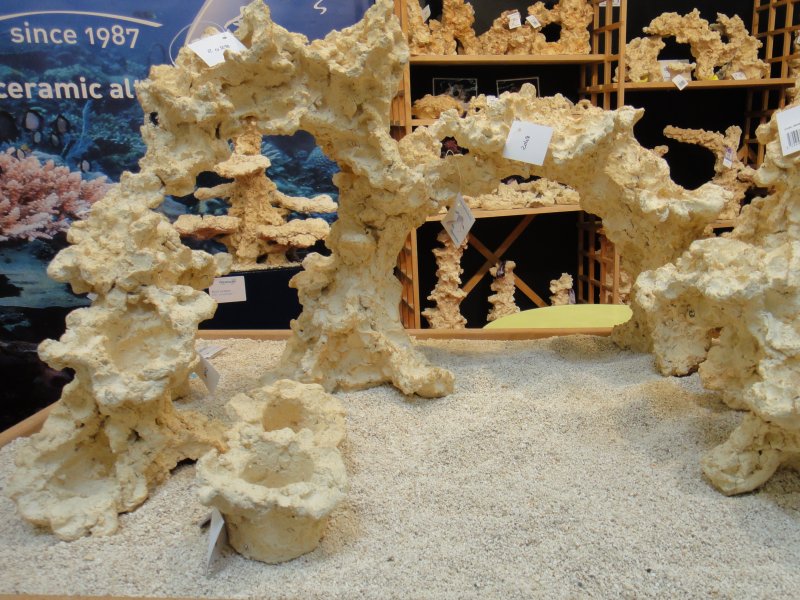 Multi positions arches, for varied and original arrangements.
Easy setting up:
Tilt and prop up 2 arches between them.
pile them on other arches
On our Facebook page : video of different setting ups –  Interzoo show 2016.
https://www.facebook.com/aquaroche/videos/1188871437790918/
These decors are neutral and can be used as well in fresh water as in reef aquariums.
« Nests  » (with a diameter and a depth around 5 cm), at different levels of the rocks make it easy to install plants in fresh water and corals and anemons in reef aquariums.
The  « 1 place » nest can be used as a chock. code 2008
3 arches are available:
height  28 cm – code 2028
height 38  cm – code 2038
height 48 cm – code 2048
Arch 152016
Dimensions
(cm)
Weight
(kg)
Product
Code
[Gencod]
Notes
Arches with "nests" for plants in fresh water or corals and anemons in reef aquariums.
Many possible positions from vertical to horizontal for a great varity of arrangements.
H 16 cm x 18 x 14 cm
152016
[3594981520161]

Multi position arch, for fresh and marine water
Arch 152020
Dimensions
(cm)
Weight
(kg)
Product
Code
[Gencod]
Notes
Arches with "nests" for plants in fresh water or corals and anemons in reef aquariums.
Many possible positions from vertical to horizontal for a great varity of arrangements.
H 20 cm x 25 x 14
152020
[3594981520208]

Multi position arch, for fresh and marine water
Arch 152028
Dimensions
(cm)
Weight
(kg)
Product
Code
[Gencod]
Notes
Arches with "nests" for plants in fresh water or corals and anemons in reef aquariums.
Many possible positions from vertical to horizontal for a great varity of arrangements.
H 28 cm x 30 cm x 16 cm
152028
[3594981520284]

Multi position arch, for fresh and marine water
Arch 152048
Dimensions
(cm)
Weight
(kg)
Product
Code
[Gencod]
Notes
Arches with "nests" for plants in fresh water or corals and anemons in reef aquariums.
Many possible positions from vertical to horizontal for a great varity of arrangements.
H 48 cm x 48 x 23
152048
[3594981520482]

Multi position arch, for fresh and marine water
Arch 152038
Dimensions
(cm)
Weight
(kg)
Product
Code
[Gencod]
Notes
Arches with "nests" for plants in fresh water or corals and anemons in reef aquariums.
Many possible positions from vertical to horizontal for a great varity of arrangements.
H 38 cm x 38 x 19
152038
[3594981520383]

Multi position arch, for fresh and marine water