Décor by Christel D. ( aquarium :1 meter x 50 cm)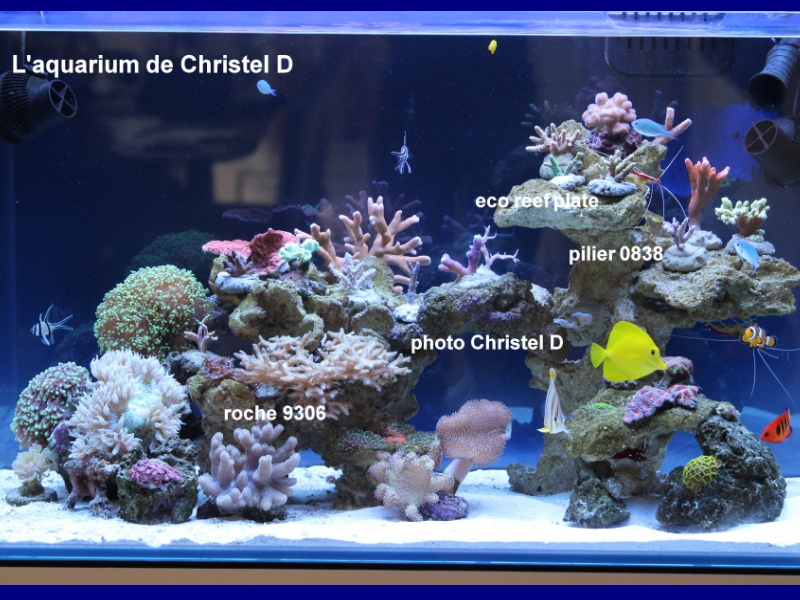 Sculptures  in your aquarium.
These rocks for marine water recreate underwater landscapes, with shelters, overhangs,shadowed areas and ledges exposed to light areas.
For each design, each unique piece allows a great variety of compositions. You can put them together or link them with « coral bridges » or « eco reef plates »
For special aquariums, made to measure decorations are created on demand.
Porosité

Porosity is calculated to make it easier for the development of bacteria, as with the best live rocks. Once the rocks are colonised, a biological reactor is achieved together with a better equilibrium of the aquarium.
Neutrality and use
These neutral rocks can be used for fresh water, marine water and cichlid fish, but shapes are made specifically for marine landscapes. In reef aquariums with live rocks, these rocks will colonise in a few months.
Reef  system

It is a system of steps-cavities where you can chock up our eco reef plates, cultured or new, or other live rocks. Different positions of the rocks are possible in the same cavity. Irregular steps allow good lighting conditions.
Example of decoration for an aquarium 35,43'*19,68'*19,68′
Set up the main structures, keep enough space between the rocks and the sides of the aquarium, add some eco reef plates (small 5,9'and middle 7.87'/9.84′)
Add some live rocks or seeded aquaroche eco reef plates or follow the protocoles in the reef section: cycling aquaroche rocks.
More details on these central decors:
Enregistrer
Enregistrer
Enregistrer