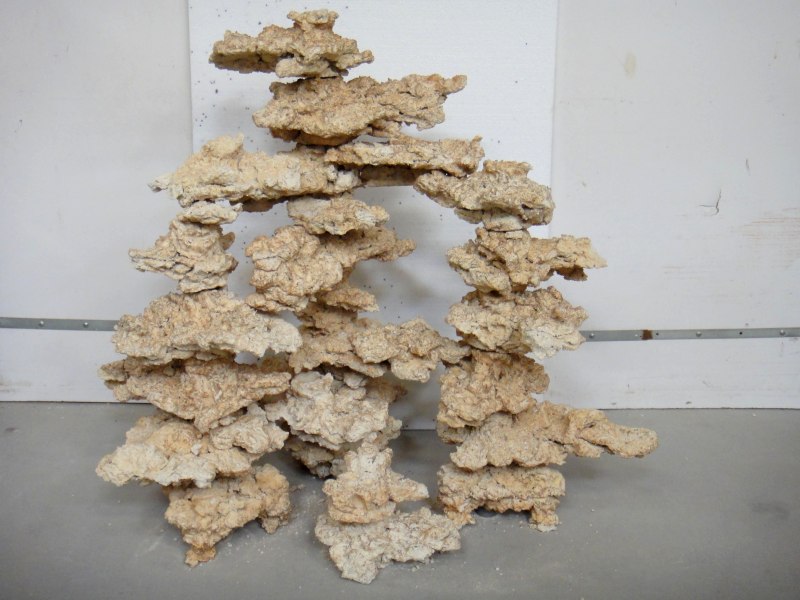 For very big aquariums, we created this new range:
« XL decors »
ideally adapted for tanks
over 2 meters length,
over 90 cm width
height from 70 cm to 2 meters.
It's a system of large rocks that you can pile up or thread on
tubes (diameter 63 mm) to build big structures.
Feel free to play with the different shapes to create reef aquascapes, with « platiers », overhangs, bridges and steps for corals.
Rocks
Several categories are available:
Tripod basis, very stable
Rocks with holes, for tubes of  63 mm diameter (height 17 cm)
distance pieces to get different levels.
Triangular or long  platiers  to link several columns or create foregrounds.
Tubes
These rocks are fitted for standard PVC tubes (diameter 63 cm).
Once you have decided  which aquascape and which height for your decor, cut the tubes at the right dimension.
Tips?
Start with a design with the main lines of your decor (high, low…), knowing that a pile has an average « footprint » of 60 to 80 cm (length) x 40 to 60 cm (width).
You can link 2 or 3 piles with big platiers.
You have to decide : the number of columns, their height (they have to be different, otherwise your decor will be monotonous).
Then choose the rocks for each column, avoid regularity:
1 tripod basis : 17 cm
1 tripod basis + 1  « tube » rock= 34 cm
1 tripod basis + 2 « tube » rocks =  51 cm
1 tripod basis + 3 « tube » rocks = 68 cm
1 tripod basis + 4 « tube » rocks = 85 cm…
Use the distance pieces rocks (10 cm /17 cm /25 cm) to change the levels or have a narrower area.
Setting up
Put the tripod basis at their place, insert the tubes.
Thread the rocks on the tube, alternatively with the different shapes.